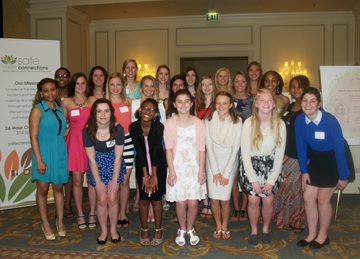 Our Youth Ambassadors play an integral role in raising awareness of our mission, and taking a stand again sexual and domestic violence. Keep reading to see how you can be a Together! Youth Ambassador.
Before the Event
Host an independent fundraiser for Safe Connections! As a Together Youth Ambassador, we want you to get your school, club or community group involved.  We will provide you with fundraising ideas; it's your job to implement and get creative in your community. Get a friend or group of friends and work together! We'll also rely on you to bring friends who are interested in becoming Youth Ambassadors to the brunch.
On the Day of the Event
Check-in on Facebook at the Ritz-Carlton when you arrive at the event, letting your friends know you're there. Remember to Like Safe Connections on Facebook and follow us on Twitter if you aren't already. You will be recognized at the podium for the total of all funds raised by Youth Ambassadors and asked to stand up.
Make a Difference
As a Youth Ambassador, you're saying that you're willing to do something to end domestic and sexual violence.  You will be making a difference to the clients at Safe Connections through your donations and being an ambassador for the cause by attending the brunch. So, are you ready to get involved yet? Click on the application link below!
Fill out the Youth Ambassador application here.
Get all the event details on our Together Brunch here.
Back to All News