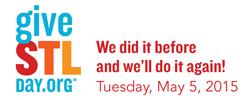 What can we do in a day? Last year's Give STL Day, St. Louis' first, was a resounding success for Safe Connections and the St. Louis region. This 24-hour online giving event presented by the Greater Saint Louis Community Foundation raised more than $1.1 million through 13,000+ gifts made to 528 local nonprofits. We were the proud recipient of more than 50 gifts totaling $5,000.
Long recognized as one of the most generous large cities in the U.S., it's no surprise that St. Louis ranked near the top of the more than 100 cities participating, finishing in 5th place for the number of gifts received and 12th place for the amount of money raised. The difference those dollars made in the ability of local nonprofits to serve the members of our community was astounding.
And now it's time to do it again! Give STL Day 2015 begins at the stroke of midnight on Tuesday, May 5, and doesn't end until the day does, at 11:59 p.m. Nearly 800 local nonprofits are signed up this year, so please remember Safe Connections, and support others who work you care about as well. There are prizes and incentives from generous sponsors throughout the day to get you excited and help your donations go even further. You can view the list of registered nonprofits now, and on Tuesday, May 5 you can visit our page to make a donation.
Back to All News