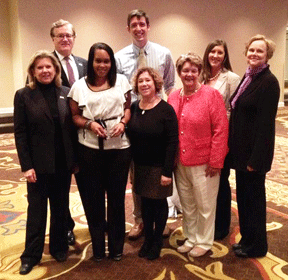 Loyal Friends Make a Big Difference.
When it comes to reclaiming a life after abuse or rape, change takes long-lasting commitment. Preventing violence for future generations also requires an unwavering effort.  That's why Safe Connections needs steady, loyal support from dedicated people who get it. People like you.
Please consider joining our Sustainers Circle. Join online now. By providing recurring donations—monthly or quarterly—to Safe Connections you make a big difference over the course of a single year. Here's how your support adds up:
$10 a month = $120 per year: Covers a classroom workshop for 25 high school students to learn about healthy dating relationships
$20 a month = $240 per year: Provides transportation for 20 women and 10 children to get safely away from an abuser
$30 a month = $360 per year:  Covers an initial assessment and two one-hour counseling sessions where a survivor takes the first steps toward a new life
$50 a month = $600 per year: Makes available five counseling sessions for teens who have experienced dating violence, stalking or unsafe homes
$100 a month = $1,200 per year: Gives young men in high school access to 7-8 private discussion groups on healthy masculinity and being role models for other young men
Benefits of Joining the Sustainers Circle
It's easy. Once the initial donation is set up, future gifts are sent automatically on a day of your choosing.
It's fast. Our online registration process can take less than two minutes.
You can cancel at any time. You can use a credit card, debit card or checking account number.
You may receive a tax deduction at the end of the year for 100 percent of your donations.
You will receive a welcome letter and year-end acknowledgement letter useful for tax purposes.  Gifts may be made through your checking account or a debit/credit card (MasterCard, VISA, AMEX, Discover).
Back to All News