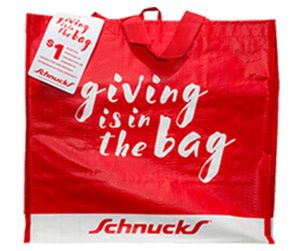 Purchase Reusable Giving Bags at Frontenac Schnucks to Honor Survivor Kat Hutson
The recent domestic violence-related shooting at the Frontenac Schnucks inspired Kat's co-workers to help.
Kat's story was 
covered extensively
 by local media after her estranged husband shot her 10 times as she was heading into Schnucks for a shift. Kat's coworkers wanted to honor her as she works to recover, and the Bags 4 My Cause Program was the perfect opportunity.
Every month,
Schnucks
locations pick a local charitable organization as the recipient of proceeds from all "Giving Bags" sold. This is a part of their
Bags 4 My Cause
program and the designated organization receives one dollar from every bag sold. In the month of May, Safe Connections was selected as a way to honor Kat.
Says Schnucks store manager, Debbie Carnaghi, "After what happened with Kat, I felt it was a good time to bring more awareness to the problem of domestic abuse, how it can affect anyone, and provide information for anyone who might be caught up in a bad situation and not know where to turn for help."  
Co-workers of Kat's said she is"friendly and a hard worker and loved to talk about her grandkids and was excited to have another one on the way." If you're looking for a way to help, consider purchasing a Giving Bag at the Frontenac Schnucks (
map it
) and 
donating 
to help cover Kat's medical bills.
Thank you to the store manager and staff at the Frontenac Schnucks for supporting Safe Connections in May! Please purchase bags no later than Wednesday, May 31.
Back to All News