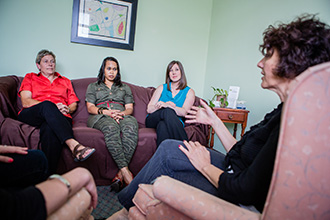 Ready for Positive Changes? Let Safe Connections Help
Many free support groups and classes are starting in early March. Enroll now to start down a better life path! Featured groups and classes include Building Relationships, Tools for Trauma Survivors, Trauma Recovery and Empowerment (TREM), Building Effective Communication Skills, Steps in Relationships, Healing Through Art, and Dialectical Behavioral Therapy (DBT). For more information, including access to a printer-friendly schedule, visit our Women's Support Services page.

To enroll, you begin by scheduling an appointment for an assessment at 314.646.7500 x118. This is to ensure that Safe Connections is the best place for you and to ensure that if we are that place, you are put in a group that best fits your needs and goals. Current clients can contact Sameera at 314.646.7500 x120.
Back to All News