It's Rosé Day! in the CWE
Back & even bigger in '19, it's Rosé Day! 
Help raise funds, awareness as well as a glass for Safe Connections! It's now our second year partnering with Rosé Day in the Central West End, a wine walk celebrating women and nonprofits that serve women in the St. Louis region, and we're hoping you'll help support Safe Connections by purchasing your ticket through our link.
Also, for every ticket purchased through our link, a portion of the ticket price goes directly to our organization! Therefore, the more bought through it, the more we'll receive! Gather your friends and get your tickets through the following link. And share away!
https://www.eventbrite.com/e/rose-day-in-the-cwe-tickets-53163596749?aff=SafeConnections
Your ticket is a passport to celebrate everyone's favorite #PinkDrink with 10 Rosé wine tastings throughout the CWE — on rooftops, side patios, galleries as well as some unexpected spots you might not otherwise have explored. So gather your crew, and mark your calendar for Saturday, May 4th — Rosé Day!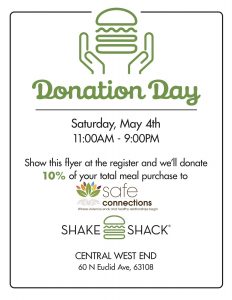 Additionally, this year we're partnering with Shake Shack. Shake Shack will generously be donating 10% of their sales with those coming in with a rose day ticket for the entire day – 11am to 11pm.
Live entertainment, art and games; Instagram-worthy moments; discounts at participating businesses and much more! Together we will be raising awareness for all star nonprofits changing the lives of women as well as girls including:
Habitat for Humanity Saint Louis Women Build
Lydia's House – St. Louis
Hawthorn Leadership School for Girls
St. Louis Ovarian Cancer Awareness
Planned Parenthood of the St. Louis Region & Southwest Missouri
Center for Women in Transition
Magdalene SaintLouis
Sista Strut
Safe Connections
Pink Ribbon Girls St. Louis

** This is a 50 Roses Foundation Event**
Back to All Events