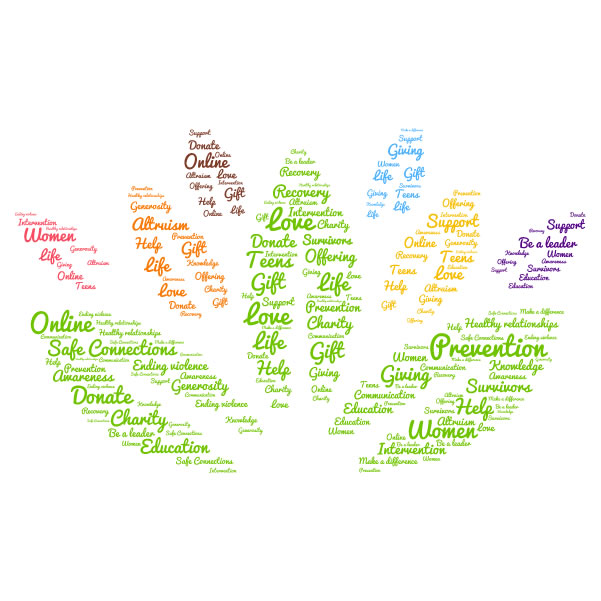 "You aren't as stuck as you think you are."
Astrid, a mother of five beautiful daughters, needed help. Her husband had a violent temper which he unleashed in unpredictable outbursts. His skills and connections honed through service in the military and police force made his threats and rage all the more intimidating. The violent, controlling behavior worsened as the years went on. The final straw was when he threatened to kill her and commit suicide. "After so many years, you know, enough is enough," Astrid explained. She made a phone call to a lawyer and later to Safe Connections.
"I was a bundle of nerves," she continued. She had tried counseling before, but left feeling frustrated and trapped. "Safe Connections was what I needed," she said. "I received more support in 30 minutes during my first phone call than I had received from any of my previous counselors." One of the first actions Astrid and her counselor took was creating a safety plan for her and her daughters.
"My counselor told me about things [that] I hadn't thought of like having a bag in the car with the bare essentials just in case," Astrid continued. During a regular weekly counseling session, she told how her husband had recently begun tracking her through her cell phone. "My counselor said, 'Wait, hold on.' She came back with another phone right away that I could use." From then on, that's how Astrid stayed in touch with her lawyer and her counselor. During the counseling sessions, Astrid started to trust her instincts; self-doubt faded and confidence grew.
Life kept getting better. Astrid's counselor recommended a specific trauma recovery technique which rose to popularity following success treating Hurricane Katrina victims suffering from post-traumatic stress disorder (PTSD). Eye Movement Desensitization and Reprocessing (EMDR) totally wiped out Astrid's PTSD symptoms. The technique helps survivors remember traumatizing events from new perspectives that defuse the power of the initial memories or experiences.
"I don't understand how it worked, but it worked," said Astrid. "Things from my childhood that were still plaguing me… Now I can talk about those things and not get really emotional. I can talk now." Astrid also cites mindfulness and relaxation skills she learned through her counselor as essential to her new life.
For Astrid, divorce was the right path. During the proceedings, she tried to make life as normal as possible for her daughters. It has been four years since Astrid's divorce was finalized. She has joint custody of her daughters with her abuser. Astrid explains that her older daughters were angry with her for some time for changing their lives. However, now that they see her happiness and are enjoying the safety and peace of their home with her, that's changed too. "They've come around," says Astrid.
As time passes, Astrid has been able to relax more. Still, she remains on guard. She decided to take a gun-handling class and to purchase a gun. Her home is equipped with a security system, and she carries mace. "It makes me feel better, like I could protect myself if I need to," Astrid stated. Recently, her abuser has been kind and friendly. She is vigilant regarding her emotional boundaries with him. "As kind as he can be, I can never trust it. It never stays."
Astrid doesn't let people take advantage of her anymore; she is more outspoken and calm. "In fact, if anything now, I'm working on being more diplomatic," she says with a laugh. Now, Astrid has a respectful, loving relationship with her new boyfriend. "I am a different person," she said. "Counseling helped me see [that] you aren't as stuck as you think you are."
Back to All News