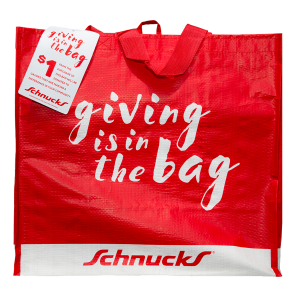 We've Been Chosen!

The season of giving is upon us and a new year is quickly approaching! Schnucks has gotten in on the joyful festivities and will be supporting Safe Connections and our clients in two ways during January 2018.
1. Bags 4 My Cause

Every month, charitable Schnucks staffers pick a local nonprofit as the recipient of proceeds at their store site from all "Giving Bags" sold as part of their Bags 4 My Cause program. During the month of January, the Crestwood grocery store will donate a dollar to Safe Connections for each purchase of a reusable Giving Bag.
How it works:
Visit the Crestwood Schnucks at 9540 Watson Rd., St. Louis MO.
There are two different bags Schnucks sells for Bags 4 My Cause. One is the Giving Bag, while the other is the Hunger Bag. Choose the Giving Bag—the one pictured above—to monetarily benefit Safe Connections.
Your purchase of a $2.99 Giving Bag results in a $1 donation to Safe Connections and helps the environment. Fun fact: One reusable bag replaces eight plastic grocery bags!
2. Schnucks Escrip Program
If the Crestwood Schnucks is a trek away for you, don't fret. Safe Connections also benefits from Schnucks' Escrip program! Escrip allows you to contribute to your favorite nonprofits simply by shopping at Schnucks. It costs you nothing. Safe Connections is proud to have been a part of this program for more than a decade.
How it works:
Visit your local Schnucks and request a My Schnucks Card.
Go online and register your card.
Keep your My Schnucks Card handy for your next shopping trip, and present the card at checkout to get a portion of your purchase amount donated back to Safe Connections.
Easy as 1,2,3! Our thanks to Schnucks and your generous staffers for supporting Safe Connections in our mission to end domestic and sexual violence.
Back to All News