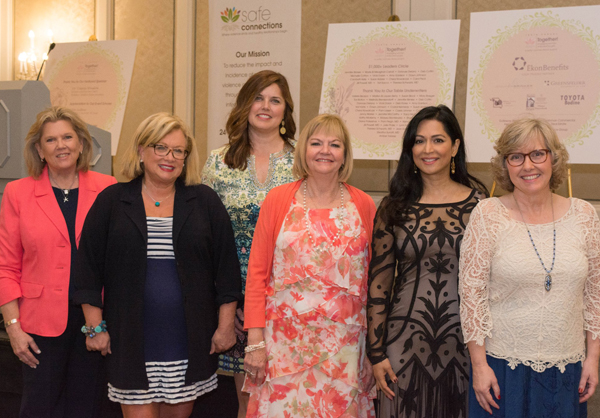 Together Brunch Shines a Light on the #MeToo Movement in St. Louis
Saturday, April 14, 2018, St. Louis, MO—With the rise of the #MeToo movement, four local women have decided to share their stories at the 11th annual Safe Connections Together! Engaging Women |Empowering Girls brunch. These women live vastly different lives. Their common ground? Reclaiming their lives after varied experiences of sexual abuse. Below is a peek at what drives these inspirational women.
Cillah Hall
Founder and Publisher of Gazelle Magazine, Cillah Hall is a self-made leader who believes in the power of living authentically. She is committed to empowering, while sharing her passion for journalism, fashion and community. When she immigrated to the United States from Zambia at 19, she had only $136 and a dream. Her achievements include her role as a morning news producer at KSDK NewsChannel 5, graduating cum laude from the University of Missouri–St. Louis and her recent decision to use her media platform to feature St. Louis women saying #MeToo. She, too, shared her story and soon after committed Gazelle as our media partner.
Alex Stallings
A community engagement manager at Nine Network of Public Media, Alex Stallings is dedicated to building a more cohesive, inclusive St. Louis region. The foundation of her work is the belief that intentional invitations to the planning table strengthen outcomes. The rise of the #MeToo movement has empowered her to share her experience as a survivor of childhood sexual abuse, and assist in the communal healing of all with similar experiences. Alex hopes that, "All find healing until none need it anymore."
Lindsay Walden
A former Safe Connections therapist now practicing in the St. Peters area, Lindsay Walden is passionate about helping others. She understands first-hand the benefits counseling can bring to a person's life. Therapy helped Lindsay work through her denial and confusion following a sexual assault by a college boyfriend. Lindsay has embraced the #MeToo movement to let other survivors know they aren't alone.
Leslie Yarrow
A former client of Safe Connections, Lindsay experienced layers of violence as a child and young adult. These varied traumas hurt her mental health and ability to sustain healthy relationships. Her professional life was a relative haven. Leslie has thrived in the heavily male-dominated field of information technology. By setting and reaching her therapeutic goals at Safe Connections, Leslie has recreated family relationships and daily habits that bring a new level of happiness to her life.
The brunch — generously underwritten each year by Ekon Benefits — is exactly two weeks away on Saturday, April 28 at The Ritz. Seats are $60; $30 age 25 and younger. RSVP to Allison McDonald at 314.464.7500 x122 or online. We happily welcome Gazelle Magazine as our media partner for the first year.
Back to All News