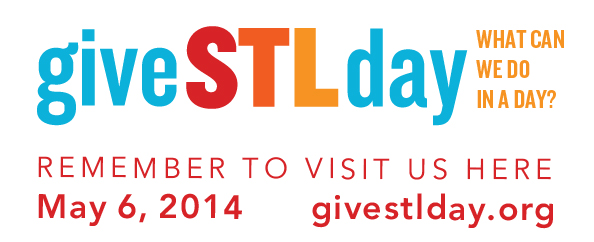 Mark your calendar for Tuesday, May 6, our region's first Give STL Day.
Safe Connections is thrilled to be part of our region's first-ever, community-wide 24-hour online giving initiative. Based on the fact that "we're better together" the Greater Saint Louis Community Foundation is hosting this  local day as part of the national movement, Give Local America. More than 500 local nonprofits are participating.
St. Louisans wishing to contribute on May 6 need only visit GiveSTLday.org, search for Safe Connections, and make an online donation of $10 or more.
"Give STL Day is an opportunity for our community to shine and contribute to the local nonprofits that do so much good in our area, while also providing these organizations with a visible platform from which they can spread their message and raise funds," said Amelia Bond, president and CEO of the Greater Saint Louis Community Foundation. "Collectively, Give STL Day draws attention to the needs of St. Louis nonprofits, as well as the positive things they are doing throughout the community. It's a win-win for everyone."
All donations through giveSTLday.org will be added to the ongoing leaderboard located on the website and results tracked throughout the day. In addition, status updates – including giving challenges and six scheduled "Power Hours" – will be promoted on Facebook (facebook.com/stlouisgives) and Twitter (twitter.com/StLouisGives). During "Power Hours" all donations received will be matched dollar for dollar up to $10,000.
"We are incredibly proud to be part of the biggest giving day in history. We see it as an exciting, empowering, new way to come together as a community and strengthen our entire region."  said Executive Director of Safe Connections Susan Kidder when  "Every gift to Safe Connections will go directly to preventing and ending domestic and sexual violence while helping victims reclaim their lives. As members of one of the most philanthropic cities in America, the people of St. Louis are sure to embrace this day."
Similar fundraising initiatives are being undertaken the same day by approximately 100 community foundations nationwide, meaning May 6 could be one of the nation's largest giving events in history. Previous "give day" events in other communities have raised millions for their local nonprofits. Examples include: Columbus, Ohio ($10 million), Pittsburgh, PA ($8 million) and Dallas ($25 million) to name a few.
Joining the Community Foundation with support for Give STL Day are Boeing, US Bank, Peabody Energy—all represented on the Safe Connections Board of Directors—and Smith Moore.
Back to All News